A few months ago Boston was sponsoring a food truck contest; they would help the winning business with loans and other assistance. I daydreamed a bit, but didn't submit an application. It was fun to create an imaginary menu —  something Cajun inspired, sourced with New England ingredients.  This mash-up of beignet and cider donut was probably the best idea, so I worked on a basic recipe and ran a few test batches.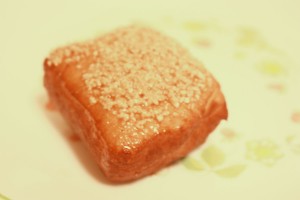 It's a tough job, but I was willing to tackle it. I was fortunate to have a Louisiana native on hand to assist and test for "authenticity."
Beignets are a yeast dough, so it's best to start the night before. This way you can let it rise, and cook for breakfast the following morning. You'll need a cast iron dutch oven, or a pan wide and deep enough for frying, and a skimmer or fry basket.
Beignet Dough
2 1/4 tsp active dry yeast (or a single packet)
3 1/2 c unbleached flour, plus extra for dusting work surface
1/4 c sugar
1/2 tsp salt
1/2 tsp ground nutmeg
2 tbsp shortening
1 egg
4 0z evaporated milk
3/4 cup cider
1 liter oil for frying *
Glaze
1/2 cup powdered sugar
2-3 tbsp cider
1/2 cup maple sugar **
Bring 3/4 cup cider to 100-105F in a saucepan over medium heat. Add yeast and sugar, stir. Remove from heat and let yeast get frothy, a few minutes. In the mixing bowl of a stand mixer (you can do this by hand, just use a large bowl), beat the egg, add salt, nutmeg and evaporated milk. Pour cider mixture to the egg mixture and mix on low speed. Using the dough hook on your stand mixer, add half of your flour, and continue to mix on low speed. Once it starts looking like dough, add the shortening and mix for about 2 minutes, until it is combined. Add the rest of the flour, 1/2 cup at a time, until the dough is smooth. If your dough is still wet or sticky, add a few tablespoons of flour at a time until the dough is smooth, and sticks to your dough hook. Turn the dough out of the bowl, knead a few times on a well-floured surface. Lightly oil the bowl, and return dough to bowl, cover with a tea towel,
Now we'll let that dough rise. If you are going to leave it overnight, put it in the fridge to keep the rise slow. If you want to cook these up the same day, put in a warm, draft-free place (like an oven), for 3-4 hours.
Once the dough has doubled in size, punch it down (my favorite part! so satisfying. WHAP. take that ninja punch). Preheat your oven to 200F, or the lowest setting possible. Turn dough onto a well floured surface, and roll out to about 1/4″ thick.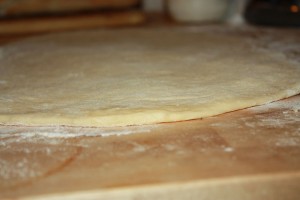 Cut into 2″ square strips with a sharp knife. Place onto baking sheets (with parchment paper, or floured, to prevent sticking). Turn oven heat off, and place baking sheets in barely-warm oven. Let rise again, for about 40 minutes. The beignets will puff up nicely.
While you are letting the beignets rise, you can mix the glaze. In a small bowl, whisk 1 tablespoon of cider into 1/2 cup powdered sugar. Keep adding 1 tablespoon of cider at a time, until the glaze is slightly translucent.
Heat oil in a cast iron dutch oven on medium heat to 350F-360F. I've found that if you crank the heat up to high, it's harder to maintain an even temp. It does not take long for most fry oils to reach this heat, so watch it carefully. Add 4-5 beignets at a time, lowering gently into the oil with your skimmer. Flip frequently, every 30-45 seconds, and remove when both sides have achieved an equal brown. Place on a paper-towel lined plate to drain. Repeat until all your dough is cooked. The beignets continue to cook a bit after you've removed them from the oil, so let them sit a few minutes before you start "testing."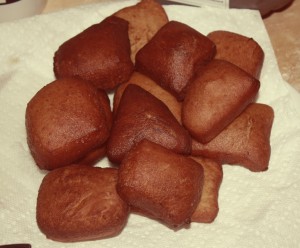 Now, dip one side of each beignet into the cider glaze, then sprinkle maple sugar with your fingers.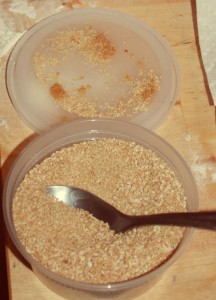 Eat. Save some for your friends (if you want). The result was a mild apple flavor. I'll be "testing" these again with some shredded apple, and/or a recent batch of apple brandy apple butter.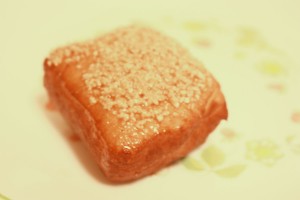 * Cottonseed oil is the traditional oil for beignets, but I couldn't find it up north. I used peanut oil.
** Maple sugar is probably hard to find. We were lucky enough to find it at Sherman Market. I'd guess you could mix some maple syrup into a raw sugar (larger granules) and dehydrate? Or order online.