I've had this decent, though boring, buffet/dresser for about a year. I picked it up for $25 at a used furniture place in Somerville. It's nothing wonderful, mostly veneer on wood, the hardware on the doors didn't fit, there were scuffs in the finish. But I remember thinking I liked the shape of the legs, and the molding on the drawers.  And I though, maybe with a coat of paint, I could turn it around.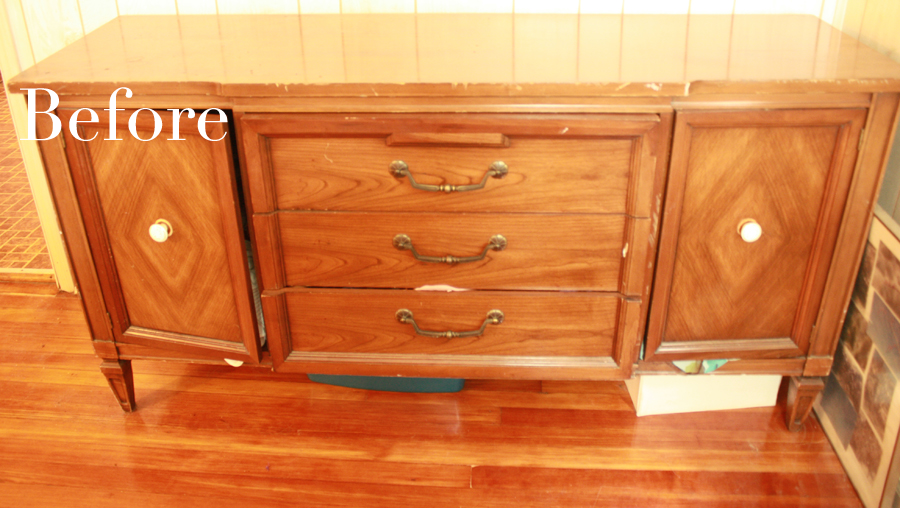 Well, I finally got around to working on the piece, and I'm pleased with the results of my Mod Podge experiment. I knew I wanted to incorporate a bit of gray and red into the piece. I picked out a lovely vine/flower paper at Paper Source, picked up a gray paint and TSP at Tags, and got to work.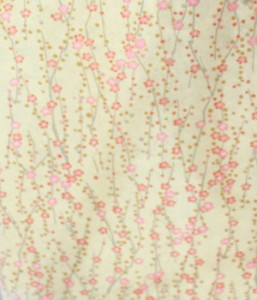 First, I used TSP dissolved in warm water and cleaned the entire piece and remove the finish on the veneer. I roughed it up with a bit of sandpaper, and wiped it down to remove any dust.
I had hoped that I could remove the panels from the doors to attach the paper, but those suckers weren't coming off. So, I had to apply the paper with the doors attached. I'd recommend applying modpodge to the surface, not the paper or fabric, and as thin a layer as possible. Once the paper was attached and lined up, I spread a layer on top to seal the deal.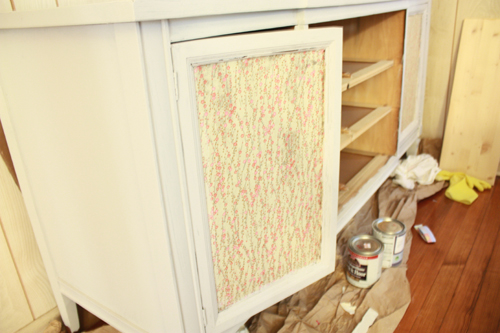 Once the paper and Mod Podge was completely dry, I trimmed any excess with an exacto knife. If the paper is wet or damp, it will tear. Next, I removed the hardware from the drawers, and covered them with red enamel. I painted the entire surface with gray paint, and then with a gray deck stain for a weathered look (letting the surface dry between coats, of course). And finally, I lightly sanded the corners and edges with a fine sandpaper to make sure the piece showed its age with dignity.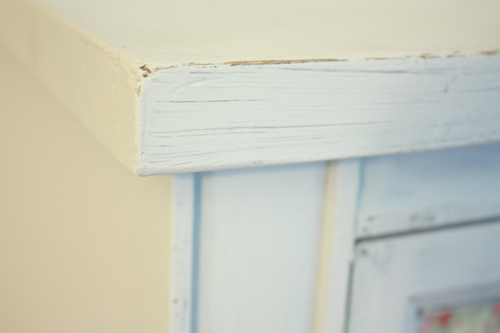 And here's the final result. All told, about $50 in supplies for this makeover.