Somewhere around '02 I was traveling the Balkans. I flew into Zagreb, Croatia, and out of Beograd, Serbia several weeks later. I followed a well-worn path through the towns of the Dalmatian Coast. Zadar and its white stone walls, the bustling port of Split, and medieval Dubrovnik, where I departed for the island of Hvar.
With its boast of 300+ days of sunshine a year, Hvar's main source of income are the German and Italian tourists that flood the hotels, demanding beer and gelato. But, on a good day, if you shared a rented flat in a 4th floor walkup, a cross-island breeze could pick up the scent of the lavender fields. Vendors in the town market hock lavender oils and satchels. The finer stuff is sold to perfume makers.
Scents store memories in a way that is more visceral than a photograph or ferry ticket. When I smell lavender, I remember the balcony of that rented flat, terra cotta tiled rooftops, the carvings of St Mark's lion into Venetian-era buildings.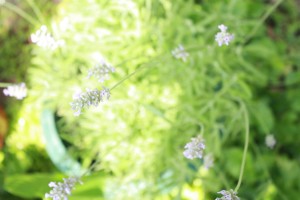 My lavender plant is in full bloom. It's hard to walk buy and not grab some. For some people, lavender reminds them of soap and grandmothers, but thankfully my grandmother didn't wear lavender. So I keep trying to find new ways to add lavender in my cooking.
Dog Days of Summer is a cocktail invented out of necessity last summer. Necessity for gin, mostly, but also lavender. It requires a lavender simple syrup, lemonade, gin, and St Germain.
Dog Days of Summer
2 tsp lavender buds
1 cup sugar
1 cup water
St Germain Elderflower liqueur
Hendricks Gin
Lemonade
Bring sugar and water to a boil in a small saucepan, until sugar dissolves. Add lavender, reduce heat to low, and let simmer for 5 minutes. Remove from heat to cool to room temp, then strain. A tea strainer works great for this. Syrup can be made 1 day ahead.
In a cocktail shaker, combine 2 parts gin (I prefer Hendricks), 1 part St Germain, 1 part lemonade over ice. Shake well, until shaker is thoroughly frosted and some ice has dissolved.
In a Collins glass,  pour gin mixture over ice, and top with lemonade. 50/50 will be nice & stiff, 2/3 lemonade to 1/3 gin for an afternoon drink. Stir in 1 tbsp of lavender simple syrup. Garnish with lemon.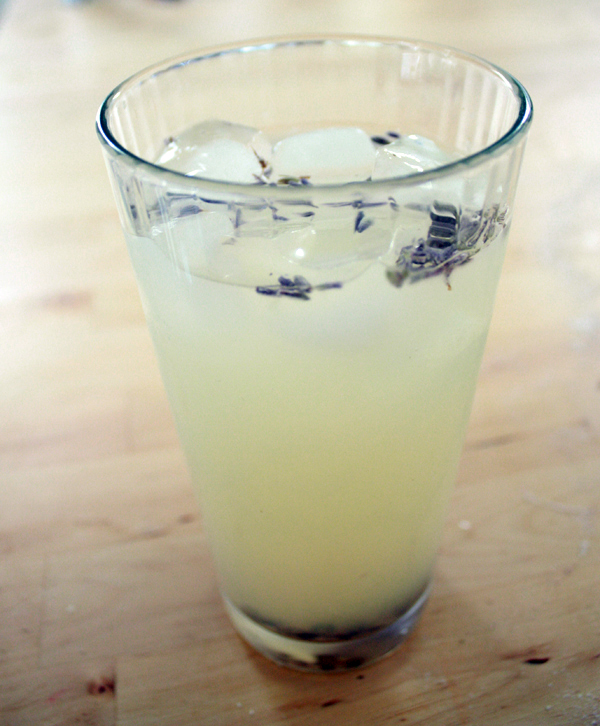 Now, one more idea for that lavender plant, if you've got one. Bread! I've been making no-knead bread on a fairly regular basis over the last month, at least a loaf a week. It's so simple and easy, just combine the ingredients, and bake the next day.
No-Knead Bread with Lavender and Fleur de sel
4 cups bread flour, unbleached
1 1/2 tsp salt
1/2 tsp instant yeast
2 cups warm water
1 tbsp lavender buds
sea salt
Combine dry ingredients in a large mixing bowl. Add water, stir with wooden spoon until flour is fully mixed. Dough will be stringy. Wrap bowl with plastic wrap and let set overnight, 14-16 hours.
When you wake up the next morning, you'll see the dough has doubled in size and is dotted with holes (if not, your yeast isn't working. try again with new yeast). Shape the dough, working it into a ball, then folding lengthwise, and then in half again. Re-cover with plastic wrap and let sit for 2 hours.
Pre-heat oven to 450F. Put your dutch oven and the cover (unless the handle is plastic!)  in the oven as it heats up.
Unwrap the dough, which will have risen. Twist the dough, place in the heated dutch oven. Sprinkle with lavender buds, then fold them in. Sprinkle with sea salt.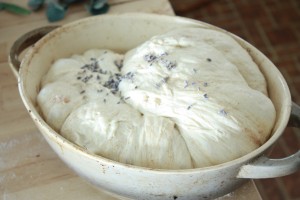 Bake, covered, at 450f for 30 minutes. Remove lid, and continue to bake for another 30 mins. Crust will brown and harden.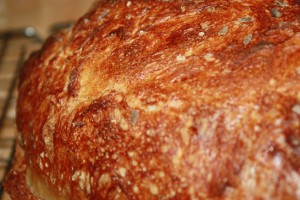 You'll notice the sea salt gives the crust a pretzel-like taste, and the lavender offsets the salty with a sweet floral taste. Let cool one hour before you slice it up. Add butter, enjoy!