I've been getting a lot of mileage out of my slow cooker this fall: chili, pulled pork, and several roasts.  The slow cooker saves on my gas bill, and because I have a model with a built-in meat thermometer, it's fairly fool proof. Add your meat and marinade before you leave for work or errands, set the correct internal temp, and leave it.
I was fidgeting a bit with an existing recipe for brown sugar glazed pork so it would work in the slow cooker.  Also, I was trying to use up some leftover apples and cider. I decided to caramelize the apples and use them as a stuffing. A savory fruit stuffing adds a nice contract to the roast, and it's a really beautiful presentation when you're slicing these to the plate.
I used a sirloin cut roast, but this will work with a tenderloin or other cut, so long as it's 4-6lbs and a few inches deep. Larger roasts will take a bit longer, but since we're working with a slow cooker, you don't need to worry about the exact time.
1 4-6lb pork roast (center cut, tenderloin, etc)
Glaze:
1 cup dark brown sugar, plus 2 tbsp
1 tbsp dijon-style mustard
1 tbsp balsamic vinegar
1 tsp fresh grated nutmeg
Stuffing:
2 medium apples
1 1/2 tbsp butter
1/4 cup apple cider
2 tsp fresh chopped rosemary
Peel and chop to apples into 1/2 inch cubes. Add butter into a sauce pan over medium heat. When butter has melted, add apples and stir for a few minutes, until apples have barely softened.  Add cider and cook until reduced a bit, then mix in chopped rosemary . Remove from heat; allow to cool to room temp.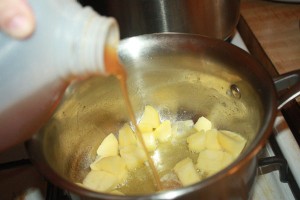 Wash roast and pat try. Rub with salt and pepper.  Using a long knife, slit the roast in the center. Cut on each end, and then carefully press through the center until both cuts meet.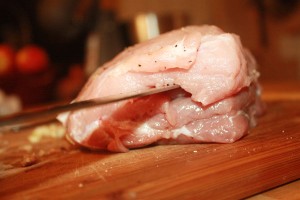 Take apple mixture and spoon into the hole you've slit in the roast. Mix brown sugar, mustard, balsamic vinegar, and nutmeg in a small bowl. The texture will be grainy but moist. Rub all over pork.
Place roast in slow cooker. Take any remaining apples and cider, and pour over roast.
Depending on your slow cooker settings and how much time you have, you can cook on high (around 3-4 hours for a 4lb roast) or low (around 6-8 hours for a 4lb roast) until you reach an internal temp of 160F. Your slow cooker should switch to "warm" mode after the internal temp has been reached.
Remove from slow cooker and allow meat to rest for 5 minutes.  While the meat is resting, take remaining 2 tbsp of brown sugar and rub over top of pork. This should melt on its own.  Cut into 1″ thick serving slices.