Thanksgiving is bearing down upon us. It's hard to muster up the energy to cook a weeknight dinner while I'm still planning and prepping for the main event on Thursday. But, this pork chop recipe couldn't be easier.
A basic spice rub adds a lot of punch, and I took a bit of everything from the Cajun kitchen.
A few minutes prep the night before will make sure you get full flavor.
Louisiana Pork Chops
2 center cut pork chops
1 tsp paprika
1/2 tsp sugar
1/2 tsp sea salt
1/4 tsp garlic powder
1/4 tsp fresh ground black pepper
1/4 cayenne pepper
1/4 tsp ground allspice
1/4 tsp onion powder
Mix spices together in a shallow bowl, and rub into all sides of pork chops. Place chops in a freezer bag and refrigerate overnight.
Heat oven to the broiler setting. Once heated, place chops in a broiler pan and position chops on the lowest rack in the oven. Cook chops 8 minutes – flipping half way through. Pork should cook to at least 160F internal temp.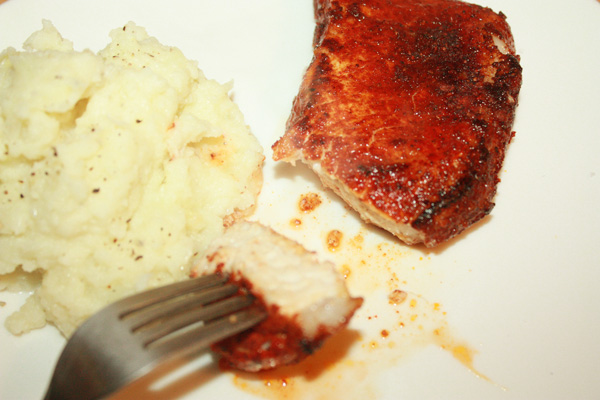 Enjoy!