Summer has arrived, and I'm so pleased the Union Square Farmer's market is in full swing. My Saturday morning routine has been restored – off to Sherman Cafe for coffee, dog and I play frisbee at Nunziato, and then hang out with  neighbors and friends at the farmer's market.
I was happy to see carrots and leeks make their debut this week. While I try to avoid firing up the oven on a hot summer day, these cute little roots were perfect for a roast.
Herb Roasted Chicken with Lemon
1 4-5 lb whole chicken, giblets removed
1/4 cup butter, room temp
1 1/2 tbs mixed dried herbs (I prefer a blend of lavender, thyme, sage, rosemary)
1 lemon, thickly sliced
12 baby carrots, scrubbed and trimmed
6 spring leeks, washed, split lengthwise
4-5 baby potatoes, blanched and halved
Melt butter in a small saucepan on medium low heat. Add herbs, stir for about 1 minute. Remove from heat, and chill. Can be made 1 day in advance.
Preheat oven to 400F. Wash the chicken and pat dry. With your fingers, separate the skin from the chicken breast. Rub butter between skin and meat, all over the bird. Very lightly rub any extra butter on top of skin – if you add gobs of butter, it will brown too quickly. Add salt and pepper to cavity, then fill with lemon slices. Place vegetables in the bottom of a roasting pan, dust with salt and pepper. Add 2 cups water or broth, not so much that the veggies are covered. Place rack over vegetables, and the chicken on your rack, breast up. If you don't have a roasting pan, you can use a casserole dish, just place the chicken directly onto the vegetables. Roast for approx 30 minutes, then tent with foil. Roast an additional 45-60 minutes.
A note on cooking times – a decent instant-read digital thermometer is less than $20. If you plan on roasting anything, just get one. Chicken should be roasted to an internal temp of 190F.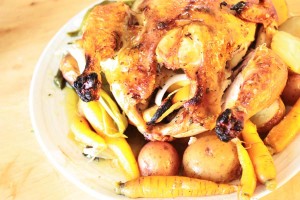 Nothing is better for leftovers than a roast chicken.  First, after carving the bird, I take the carcass, along with some veggies (celery, onions, carrots), salt, peppercorns and cover it with water in a large stock pot, and bring to a boil. Reduce to low heat, and simmer for 45 mins. Strain into containers (tupperware or canning jars) and stick in the freezer. This is a great base stock for soups or sauces.
My favorite use of leftover chicken in the summer is chicken salad. My carving skills are less than elegant, so I often end up with a cup or so of shredded bits of meat. I chop this roughly (with skin!), add 2 tbs mayo, the juice of half a lemon, and dried cranberries if I have any.
Placed on home-made bread, with a bit of kale cooked in garlic, this is the ultimate chicken salad sandwich.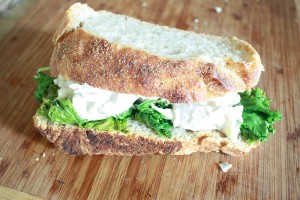 More on leftovers tomorrow!