It's nice to see something that would normally be tossed away getting good use. Garlic scapes (the stalk of the garlic plant) are showing up at a number of the stands at the farmer's market.
The easiest thing to use scapes for is pesto. Obviously, this will have a strong garlic flavor, but I found the taste of the scapes less sharp than raw diced garlic.
Garlic Scape Pesto
one bunch (dozen or so) garlic scapes
1 cup olive oil
1/3 cup pine nuts
hard cheese (pecorino romano, eg), enough for 1 cup shredded
lemon juice
Grate the cheese or shred using your food processor and set aside. Roughly chop the garlic scapes into 2-3 inch pieces. Puree the scapes in your food processor. You'll find the scapes blend easily into fleck-sized pieces. Add the cheese, pine nuts, then oil to the scapes and puree until the cheese and pine nuts are dissolved. Add a squeeze of lemon juice.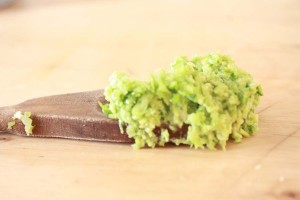 Garlic scape pesto has a great texture, as well as punch. I couldn't resist putting a bit on one of yesterday's roast potatoes.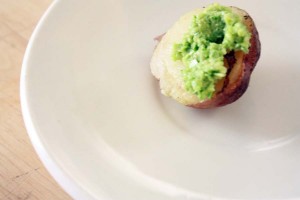 While this is called a pesto in name, I found it to be a good, sharp replacement for guacamole. Avocados aren't going to be grown in New England any time soon, so give it a try as a spread or dip if you're trying to eat local.
I managed to throw some pesto on my next leftover lunch with the roast chicken. I sauteed a few cherry tomatoes from the market, added chicken and garlic scape pesto over a few toasted corn tortilas. Mexican food, locavore style.