Usually when I arrive at a dinner with desert in tow, I unveil some fruit tart or galette. My friends dive in, only to reluctantly ask, "how much butter?"
I love a buttery pie crust. My default recipe is Alice Water's galette dough from Chez Panise Vegetables, which calls for 3/4 cup of butter. When it comes down to the butter argument, I am firmly pro butter, anti margarine or any 'butter' substitute. I find ingredient lists containing partially hydrogenated soybean oil far more frightening than the fat and calorie content of butter.
So yes, butter has become an expectation when I unveil a desert. This explains my friends' surprise last week when I was able to answer the butter question with a brief "none."
The clafoutis is an egg custard. Eggs, sugar, flour, milk, plus your choice of stone fruit.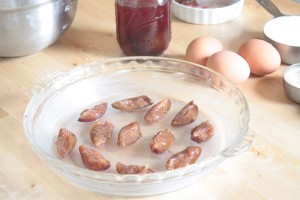 Plums aren't available in these parts til late summer, so I popped open a jar of plums canned last summer using Food in Jar's lovely recipe with honey.
I added a bit of cardamom when they were canned, which gave the plums a bit of spice and earthy flavor. In my first experiment, I used a handful of whole cardamom pods. I was concerned when the pods swelled up in the jars over the first few weeks. So, I *had* to open the jars and pour them over ice cream. They were lovely, but I was glad that I opened them early on, as the plums were strongly spiced. Next time, I crushed 3 pods with a mortal and pestle for each jar.
Clafoutis
5-6  plums,  halved
3  eggs
1 cup  milk
1 1/2 tsp vanilla
1/3 cup granulated sugar
1/2 cup flour
1/2 tsp salt
Preheat oven to 350F. Lightly butter a 9″ pie dish. Scatter the plum halves in the dish. In a medium bowl, mix the eggs and sugar.  Slowly pour the milk in, still mixing. Add the vanilla and salt, mix until color is even. You can sift the flour into the mixture, or just add in small amounts, mixing as you go. Once the flour has been worked in, slowly pour the batter of the plums. You'll notice the plums will move and float.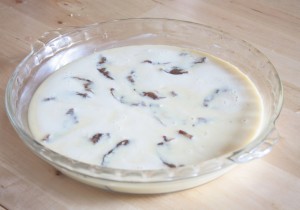 Pop in the oven in a middle rack, bake for about 40 mins. The clafoutis will swell, especially the edges. Watch for browning, turn the temp down if the edges start to burn.
Remove from oven and allow to cool to room temp, about an hour. The edges that have swelled will settle in, and the custard will be set, not jiggling.
And there you go, a rich desert, with no butter!